Our Mission
At Absolute Air we believe our award-winning success is a result of the positive relationships we maintain with our clients, ensuring they have an exceptional experience by providing the most reliable products and services, keeping them comfortable, saving them money, and always living up to our word.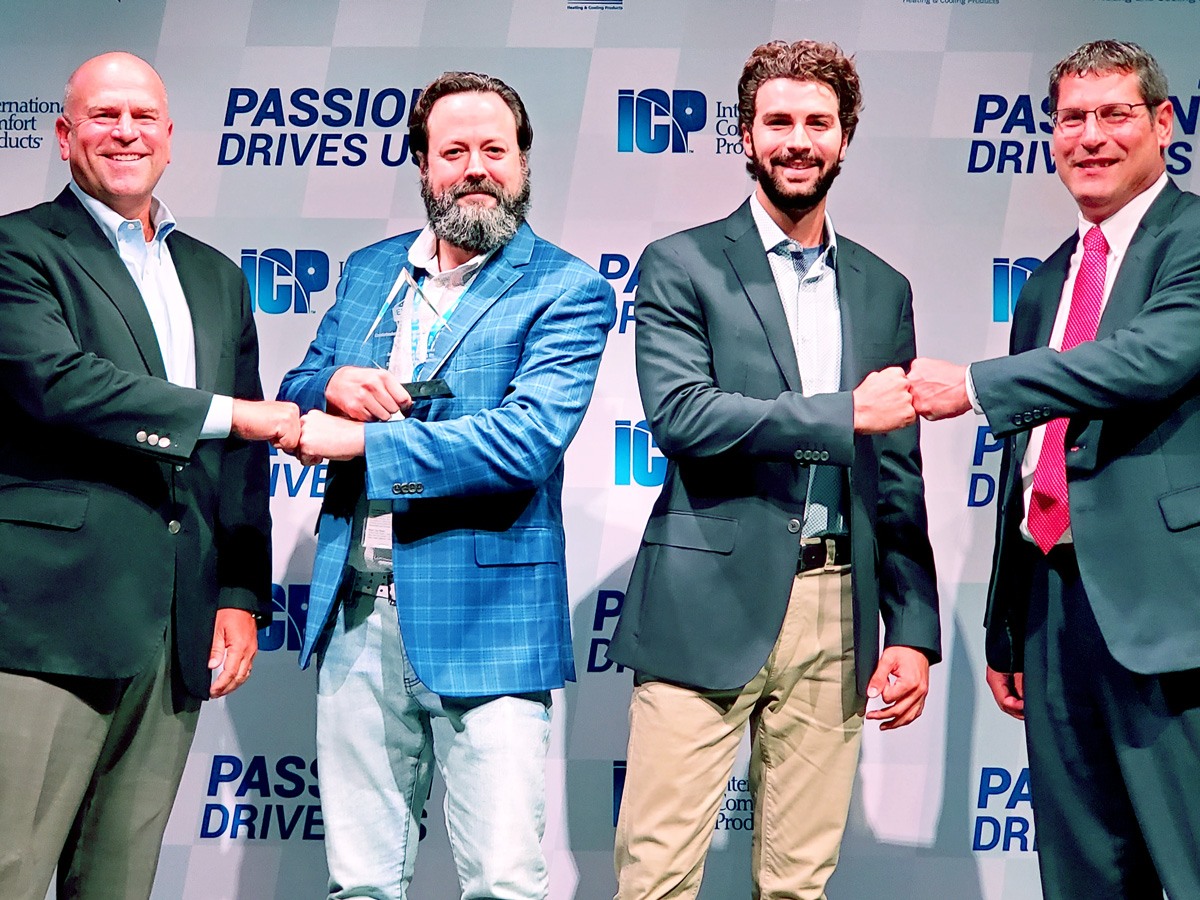 Absolute Air was recognized as the 2021 Elite Dealer of the Year by Carrier Corporation's International Product group.
Pictured, left to right: JT Hltschlage – VP Carrier Corp. North America, Brian Jackson – Absolute Air Owner, Brandon Jackson – Absolute Air Service Manager, Justin Keppy – President Carrier Corp. North America
We believe that for Absolute Air to be successful we must focus on the following core values:
1. Exceeding customer expectations on every level.
2. Providing a positive and healthy culture for the Absolute Air Team by promoting education, family, and integrity.
3. Showing our appreciation by giving back to the communities we serve.
4. Maintaining strong relationships with our vendors to ensure we can offer our clients the best products and support in the industry.
Lifetime Workmanship Guarantee
At Absolute Air, we take pride in our workmanship. As proof of our confidence, we provide our customers with a Lifetime Workmanship Guarantee on all new heating and cooling systems installed by our professional staff of technicians.
If additional labor is required due to a fault in our workmanship, the problem will be repaired at no cost. With Absolute Air's exclusive Workmanship Guarantee, our goal is to provide our customers with the additional value and peace of mind you deserve. If you have any concerns with your heating and cooling system, please mention them when scheduling your seasonal system maintenance and we will be happy to have our technicians resolve those concerns for you.
Absolute Best Price Guaranteed
We know that you'd rather spend your hard-earned money on other important things. That's why we always offer our Absolute Best Price Guaranteed and financing options to help you keep more of your money in your pocket. If you find a better price on the same model of equipment from another 5-Star rated, licensed HVAC company that provides the same warranties, certifications, and benefits offered by Absolute Air, we'll match that price. It's as simple as that.
Customer Care
Every technician in on our team must pass a series of classroom and in-the-field technical training courses to ensure every technician in your home has the proper skills and training to diagnose, repair, or install your HVAC system. Our Comfort Advisors provide Free Comfort Evaluations, to ensure your investment in a new heating & cooling system is right for your home, lifestyle, and budget. And our Customer Care staff is focused on ensuring that if you have an emergency, a routine tune-up, or anything in between, we will be able to help you quickly and efficiently.
Satisfaction Guaranteed
We strive for nothing less than 100% customer satisfaction while building strong, long-term relationships with our clients. Not only do we provide our technician's with the technical training and skills to perform the work you need; we also ensure that they have the training to treat your home and property with the highest level of respect and care you deserve. If you are not satisfied with any product or service provided by Absolute Air, just let us know and do everything possible to ensure your satisfaction. We maintain our high customer satisfaction rating by responding immediately to any concerns and ensuring that our clients will not need to jump through hoops to make it right.
---
The Absolute Family Story
Your Local Heating, Cooling, and Indoor Air Quality Experts!
Absolute Air is a dedicated leader in the heating and cooling industry; exceeding expectations in service and quality, using the latest and most efficient technology, being a model employer, and giving back to the community. With 30 years of industry experience, Brian Jackson serves as the Owner and Managing Director of this family-run business. Brian began his HVAC career in 1990, working in the Washington D.C. and Suburban Maryland Area while earning his HVAC certifications at Prince George's Community College. Brian's son, Brandon Jackson, joined the Absolute team in 2014. While being mentored by his father in the family business, Brandon also attended Fairmont State University and graduated in 2018 with a degree in business administration.
After establishing a solid foundation of business in West Virginia, David Olesnevich partnered with the Jacksons in 2020. David, a long-time friend of the family, brings over a decade of HVAC management experience to the company. David is a key leader of the Absolute team's plan of expansion from Morgantown, through South Western PA, and into Pittsburgh.
The Jacksons attribute the success of the business to their unmatched focus on customer service and their dedication to providing a healthy and productive culture for the entire Absolute Air team.